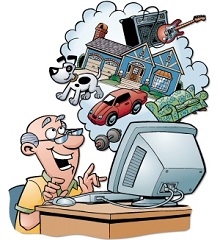 Welcome to What's Up San Carlos Classifieds
Looking for a vacation rental? Looking to buy a used kayak? Looking for a job? Browse our classifieds. Have an apartment to rent or a car for sale? Hiring an employee? Post a classified ad.
Buy and sell goods in What's Up San Carlos' free classifieds. Browse the classifieds and find:
boats for sale in San Carlos Mexico
sailboats for sale
sporting goods, like kayaks and bikes
fishing gear
motorhomes, cars, ATVs
household goods: appliances, furniture, tools, toys
car parts and boat parts
computers and other electronics
houses for sale
vacation rentals
garage / yard sales
Place a free ad in our online marketplace.
Explore What's Up San Carlos and learn all there is to see and do in San Carlos Sonora Mexico.
Sign-up for What's Up San Carlos' free weekly news, events and entertainment newsletter.